Automobiles & Motorcycles Parts & Accessories
EVF SERIES VRLA GEL BATTERY FOR ELECTRIC VEHICLE
Item No.:
3-EVF-180A/3-EVF-200A/3-EVF-200T ...
ISO9001, ISO14001
 GB/T-28001
 CE, ROHS
 Other devices require DC power supply
Description
ITEMS NO.: 3-EVF-180A , 3-EVF-200A , 3-EVF-200T , 4-EVF-150A , 4-EVF-150 , 6-EVF-60 , 6-EVF-70T , 6-EVF-80 , 6-EVF-100A , 6-EVF-100T , 6-EVF-110T , 6-EVF-120 , 6-EVF-120 , 6-EVF-150A , 6-EVF-150T .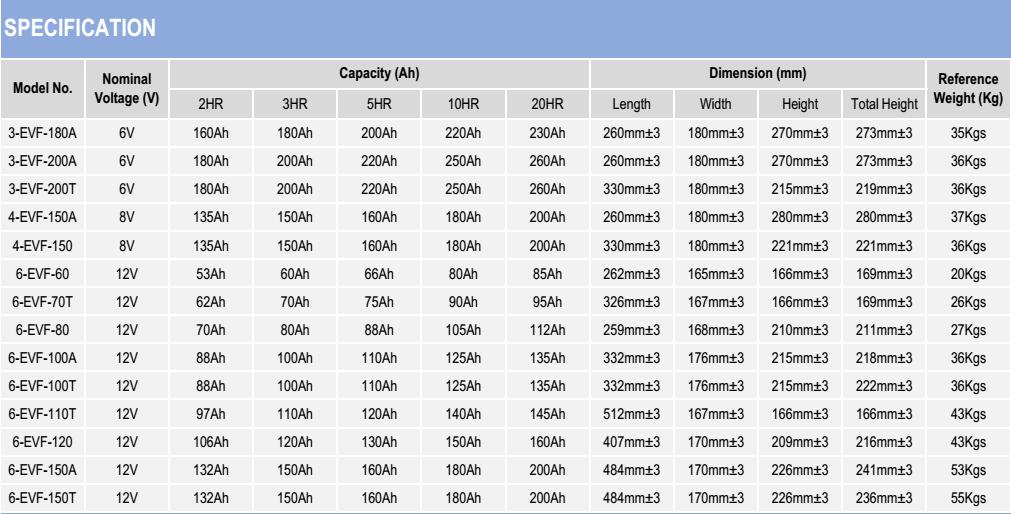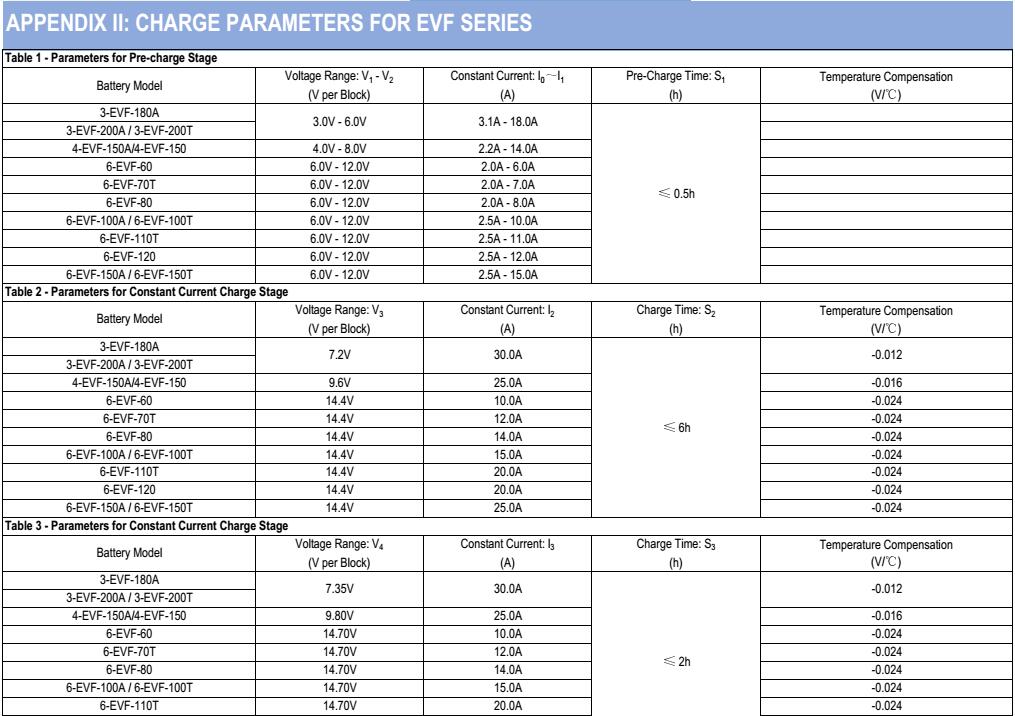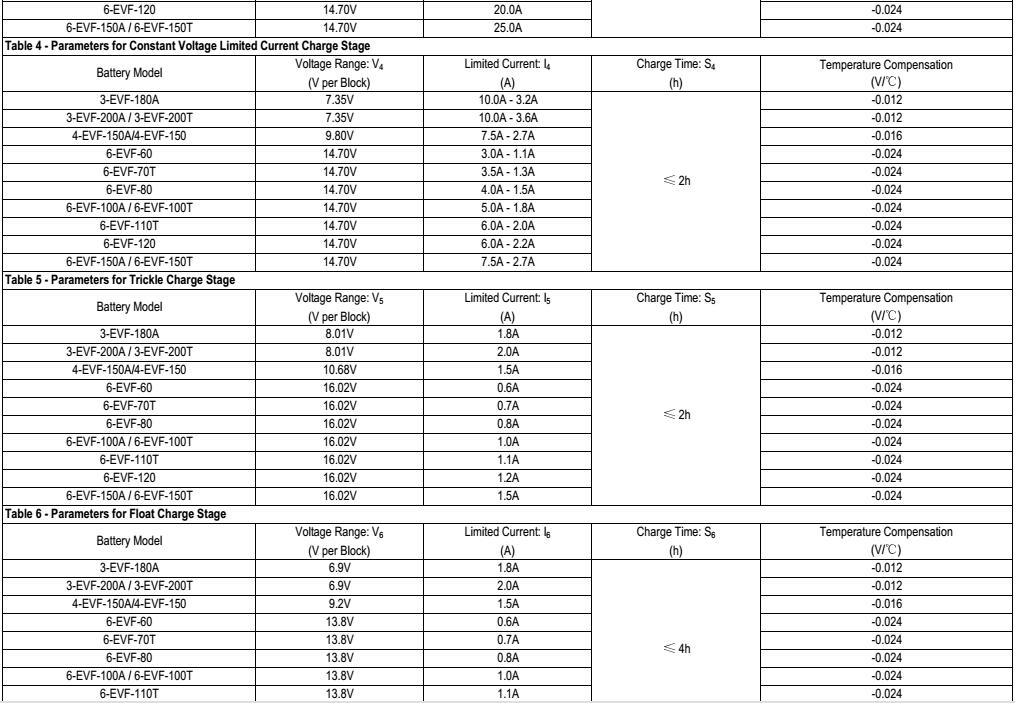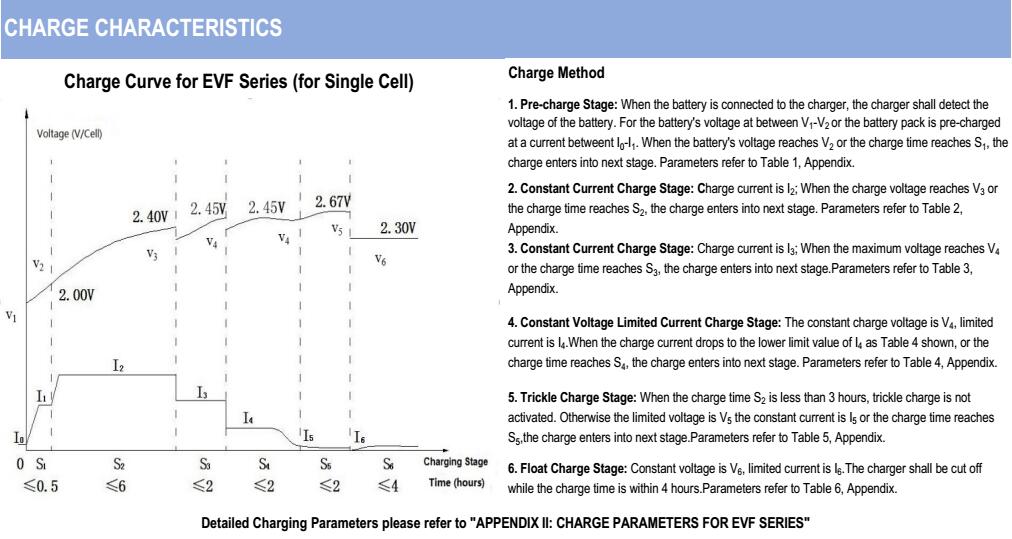 FEATURES
Extra Long Life: Chilwee EVF Series are designed with high quality grid alloy enables the grid with features of anti-corrosion, low gas emission and excellent deep cycle performance, as well as hign density and special deep cycle lead paste prescription is adopted to ensure extra long cycle life. The cycle life may reach 600+ cycles @ 80% DOD.
High Capacity and High Energy Density: Chilwee EVF Series are designed with adequate active material and higher electrolyte density to increase the battery's capacity within certain dimension and weight, so as to keep the battery with high energy density to be compatible with most of the electric vehicle without providing extra space to install batteries.
High Reliability and Safety: High strength ABS battery container and lid, perfect safety valve design, and high strength & excellent large current electroconductivity copper terminal design are adopted to ensure the Chilwee EVF Series with high reliability and safety at extreme condition.
High Environmental Adaptability: Chilwee EVF Series adopts special fumed silica Gel in electrolyte and special Gel type separator to prevent electrolyte sratification. This can significantly improve the battery's service life and environmental adptability.
Non-Cadmium Design, Environment-friendly: Chilwee Battery has adopted internationally leading technology - container formation non-cadmium production technology, which is in the leading position in the industry. It helps to save energy 28.5%, save water 90%, and non-discharge of waste water.
APPLICATIONS
Electric vehicles, i.e. electric car, tricycles, etc.
Low speed road vehicles, i.e. golf cart, electric resort car, etc.
Electric engineering machines, i.e. forklift, lifting platform, sweeper, scraper, etc.
Renewable energy storage, i.e. solar/wind energy system
Other devices require DC power supply
APPLICABLE STANDARDS
ISO9001, ISO14001
GB/T-28001
CE, ROHS
Other devices require DC power supply
PRODUCT
CHARACTERISTICS
Nominal Voltage: 6V (3 cells), 8V (4 cells), 12V (6 cells)
Cycle Life ≥ 600 cycles @ 80% DOD
Float Charge Voltage: 2.25V/Cell - 2.30V/Cell
Equalization Charge Voltage: 2.44V/Cell - 2.46V/Cell
Low Discharge Rate ≤ 3%
Container Material: ABS