FLIR Systems Driver Vision Enhancement System AI Intelligent Vehicle Thermal Imaging Night Vision yij automotive parts
Based on an efficient thermal imaging image human-vehicle recognition algorithm, the system can accurately identify pedestrians 80 meters ahead and vehicles 110 meters ahead, and issue sound and image alarms for possible collision dangers, allowing driver
Description
1. Product description
The intelligent vehicle thermal imaging night vision system adopts advanced stabilization technology, sensor technology, image processing technology and efficient multi-process deep learning perception technology, and is designed and developed for the automotive aftermarket. Driving product, this product uses uncooled infrared detectors and low-power high-performance artificial intelligence SOC, with intelligent human-vehicle detection and anti-collision alarm functions, which can greatly improve the driver's night driving safety.
2. Product Features
super long sight
The thermal imaging camera installed behind the car's central network can provide clear infrared images in the range of 300 meters in front, which is twice that of ordinary car high beams, greatly improving the driver's field of vision, and actively helping the driver to detect distant pedestrians and animals in advance.
Prevent high beam glare interference
Thermal imaging is not affected by the other party's high beam or other strong light to help the driver see the road ahead clearly even when the high beam is illuminated.
Break through the night barrier
Thermal imaging is based on the surface of the object and does not depend on the light source. It can still achieve clear imaging in dark areas at night, effectively helping drivers to detect people and vehicles outside the light range in advance.
Fog, smoke and smog
The thermal imaging camera can still image clearly when the vision of the human eye is limited in severe weather conditions such as heavy fog, smoke, sand, smog, rain and snow, so as to realize all-weather applications and ensure driving safety.
Intelligent identification and early warning
Based on an efficient thermal imaging image human-vehicle recognition algorithm, the system can accurately identify pedestrians 80 meters ahead and vehicles 110 meters ahead, and issue sound and image alarms for possible collision dangers, allowing drivers to calmly deal with various dangers.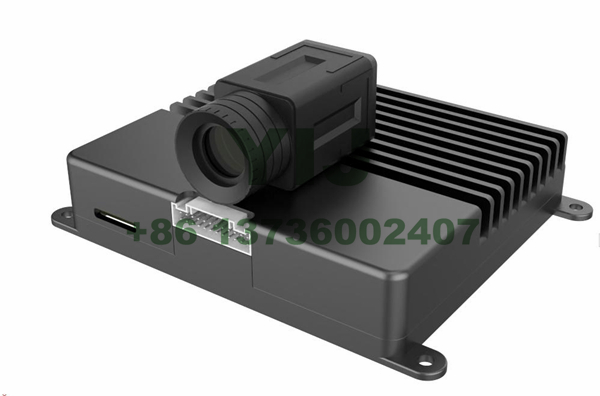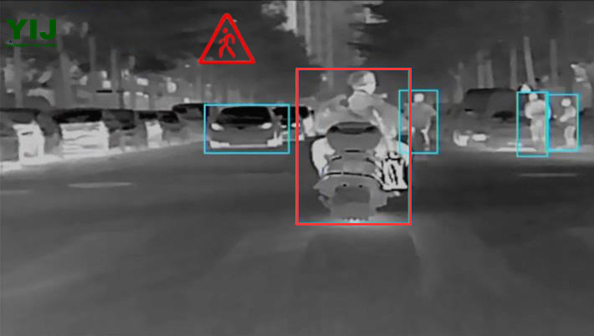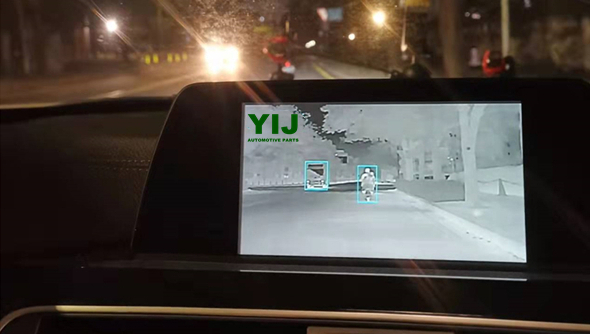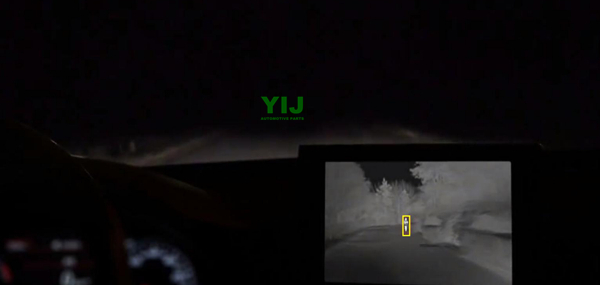 3. Technical parameters
Detector Type: Vanadium Oxide Uncooled Infrared Focal Plane Detector
Spectral range: 8~14 μm
Resolution: 256×192
Lens: Focal length: 9.0mm
F-number: 1.0
FOV: 20°*15°
Pixel pitch: 12μm
Noise Equivalent Temperature Difference (NETD): <50mK @25℃, F#1.0, 25Hz
Detector frame rate ≤25Hz
Non-uniformity correction: automatic shutter correction
Image Display: White Hot
Image Enhancement: Automatic
Boot time: ≤15s
Power input: 9-36V
Intelligent early warning: contains the algorithm box for people and vehicles recognition and realizes intelligent early warning
Detection distance: people (1.8x0.5m)≤ 160m
Vehicle (2.3x2.3m) ≤ 280m
Weather conditions: 25℃, 60%RH,
Detection distance: people (1.8x0.5m)≤80 m
Car (2.3*2.3m≤160m
Weather conditions: 25℃, 60%RH,
Video output: USB/CVBS
Communication interface: RS232
Lens protection: high-strength protective window
Automatic defrost: not supported
Working temperature: -40℃~80℃
Protection class: IP69 (thermal imaging camera)
Size: camera module≤55x32x32 (length, width, height mm)
Controller module≤110x100x25 (length, width, height mm)
Weight: about 60g (camera module)
About 380g (controller module)
Accessories: Universal mounting brackets, wire harnesses, accessories